Woman's Heath By Life Stage: 19-39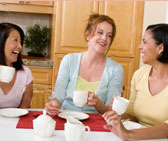 During this phase of life, it is important to focus on preventive screenings.
Regular well woman exams and mammograms are the best way to screen for any changes that your body may experience.
During this phase of life, you may also be focused on reproductive health. If you do become pregnant at any phase of your life, it is vital to receive the best obstetrical care possible to ensure that you and your baby remain healthy throughout your pregnancy.
Download Patient Information
Health info by life stage