Woman's Heath By Life Stage: 13-18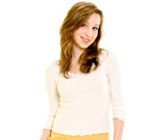 At your first visit to the OB/GYN your provider will talk to you about any concerns you may have about your body and the changes you are experiencing.
You will discuss reproductive health, vaccines, puberty, and contraceptive surveillance. At this visit your provider will begin educating you on preventive screenings. You and your provider will discuss when you are ready to begin having regular well woman exams (preventive screenings). These exams will consist of a general exam, a breast exam, a pelvic exam, and a Pap test.
Download Patient Information
Health info by life stage