Terri L. Bauer RN MSN W.H.N.P-BC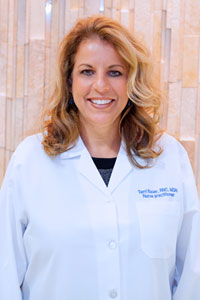 Terri L. Bauer is a Master's Prepared, Board Certified Women's Health Nurse Practitioner. She is Nationally Certified with the NCC for Nurse Practitioners in Women's Health. She also holds certifications in Colposcopy, insertion of Mirena/Skyla and Nexplanon.
Practicing over 17 years, she specializes in the care of women from adolescence to post-menopause. Terri believes in educating her patients and providing individualized treatment plans to meet her patient's specific needs.
Terri's expertise includes counseling teens, offering all birth control options, hormone replacement therapy to include bio-identicals, fertility, and obstetrics.
Terri is married and has three children. She is active in her community of St. Paul MO. She is an active member of St. Paul Church. She has served as a School Board Member & President of the Parent Organization at St. Paul School and has been Chairman of Project Graduation and Auction Committee member for St. Dominic High School in O'Fallon MO.